---
Thank you to everyone who attended our February General Membership Meeting. And if you missed it, you can watch it by clicking
here.

At our Meeting, the Membership voted to:
1) Support CA State Senator Connie M. Leyva's (D-Chino) Senate Bill 331, empowering victims of any type of workplace harassment or discrimination to speak out.
2) Support the Black Students Union of Lowell High School in its efforts to challenge Lowell's current admissions policy.
3) Support Mari Posa and Celestina Pearl in their efforts to join the Parental Advisory Board of the SF School Board.
4) Support the California Nurses Association's CalCare campaign for single-payer healthcare in the state.
The Co-Presidents also nominated Jupiter Peraza and Zahra Hajee to serve as At-Large Board Members. The Membership voted to elect Joe Adkins, Jasper Wilde, and Luca Mineo-Marinello to the At-Large Executive Board.
---
---
It is not too late to renew your Milk Club Membership at www.milkclub.org/join. Please stay with us in the fight this new year.

Feel free to reach out to us at [email protected] if you have any questions.
---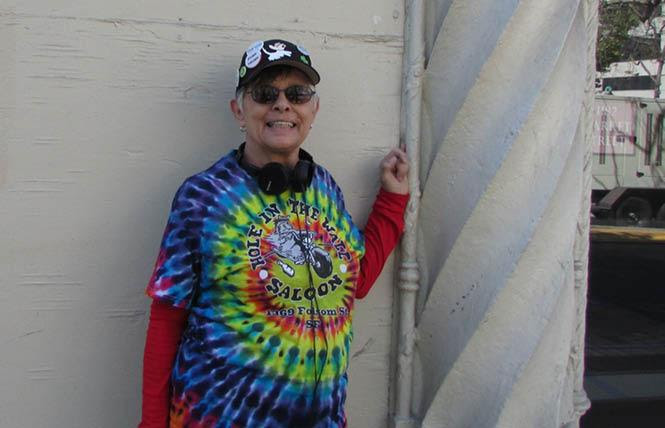 Longtime Milk Club Member Terrrie Frye has passed away. In this photo, she is wearing a shirt from the Hole In The Wall, her favorite SOMA bar.
---
Longtime Harvey Milk Club Member Terrrie Frye passed away at age 74 on February 4th at a Washington Hospital in Fremont. (Read more about Terrrie Frye's life in the BAR.)

Unfortunately, Terrrie had been ill for quite sometime and missed most of our meetings last year.
Granny Gear, as Terrrie was known by many of us, had deep roots in the Milk Club and did not tolerate bullshit easily throughout her decades of progressive activism, particularly on AIDS and cannabis rights related issues.
As SF DCCC Chair David Campos put it in the BAR, "She was a feisty, outspoken activist with a heart of gold."
Terrrie Frye will be missed.
---
Do you like this post?