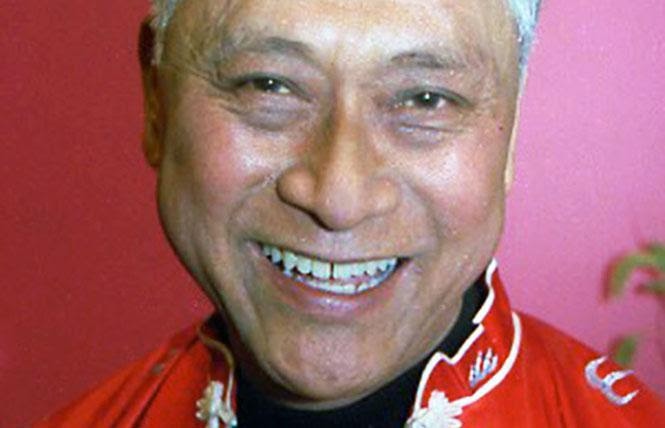 Photo provided by Rick Gerharter.
---
As you may have recently read in the Bay Area Reporter, San Franciscans have lost Hoover Lee, an irreplaceable queer, Asian community leader. Hoover was a founding member of the Gay Asian Pacific Alliance, the Association of Lesbian and Gay Asians, and the Asian and Pacific Islander Caucus of the Harvey Milk LGBTQ Democratic Club.

In addition to Hoover's overall activism, he was also a mentor to up-and-coming queer, Asian politicians in the City. Former SF Community College Trustee Lawrence Wong was quoted in the B.A.R. saying, "If there was ever to be a founding father of the gay Asian movement in San Francisco it would be Hoover Lee."

Hoover's passing at the age of 83 comes amid a spike in anti-Asian hate crimes across the country, including the Bay Area. So, one way to honor Hoover's legacy and combat this anti-Asian bigotry and violence is to re-establish the Asian and Pacific Islander Caucus of this Club!

Stay tuned for updates from us on this front. But if you are interested in learning more about our new caucus efforts, please contact Jeffrey Kwong, our V.P. of Events and Fundraising, at [email protected].
---
---
Thank you to everyone who attended our February General Membership Meeting. If you missed it, you can watch a recording of it here.

The General Membership voted on the following motions:

1) To support CA State Senator Connie M. Leyva's (D-Chino) CA SB 331, empowering victims of any type of workplace harassment or discrimination to speak out.
2) To support the Black Students Union of Lowell High School in its efforts to challenge Lowell's current admissions policy.

3) To support Mari Posa and Celestina Pearl in their efforts to join the Parental Advisory Board of the San Francisco School Board.

4) To support the California Nurses Association's CalCare campaign for single-payer healthcare in the state.

And the Membership voted to elect Joe Adkins, Jasper Wilde, and Luca Mineo-Marinello to the At-Large Executive Board!

Also, the Milk Club Co-Presidents nominated Jupiter Peraza and Zahra Hajee to serve as At-Large Board Members. This vote will take place at our March General Membership Meeting.
---
---
It is not too late to renew your Harvey Milk Club Membership at www.milkclub.org/join. Please stay with us in the fight this new year.

Feel free to reach out to us at [email protected] if you have any questions.
---
And if you did not know, U.S. Representative (and QAnon fanatic) Marjorie Taylor Greene opposes The Equality Act. Her next door neighbor in the Capitol Building, Democratic Congresswoman Marie Newman, has something to say about that, a you will see below. (Keep in mind that Congresswoman Newman has a transgender daughter.)


 Planting the right sort of flag at the U.S. Capitol these days.
---
The Harvey Milk LGBTQ Democratic Club
http://www.milkclub.org

Join or renew your Membership today!
http://www.milkclub.org/join
Do you like this post?