In this April 1977 file photo, San Francisco Supervisor Harvey Milk, left, and Mayor George Moscone are shown in the mayor's office during the signing of the city's gay rights bill. (Read more at NPR.)
---
Thank you fo everyone who attended Friday's online vigil for Harvey Milk and George Moscone. If you missed it, feel free to watch it here.
On November 27th, 1978, Mayor George Moscone and Supervisor Harvey Milk were both murdered in cold blood by Dan White. So every year on this date, the Milk Club honors these men and the progressive movement they each created. Always remembering how their tragic and senseless deaths continually force us to fight for a queer-friendly, inclusive, and progressive future for all, in San Francisco and beyond.

During recent years, the Milk Club hosts an in-person, candlelight march in the Castro, ending at Harvey's old camera shop. But due to the COVID-19 pandemic, that simply was not an option this time.
---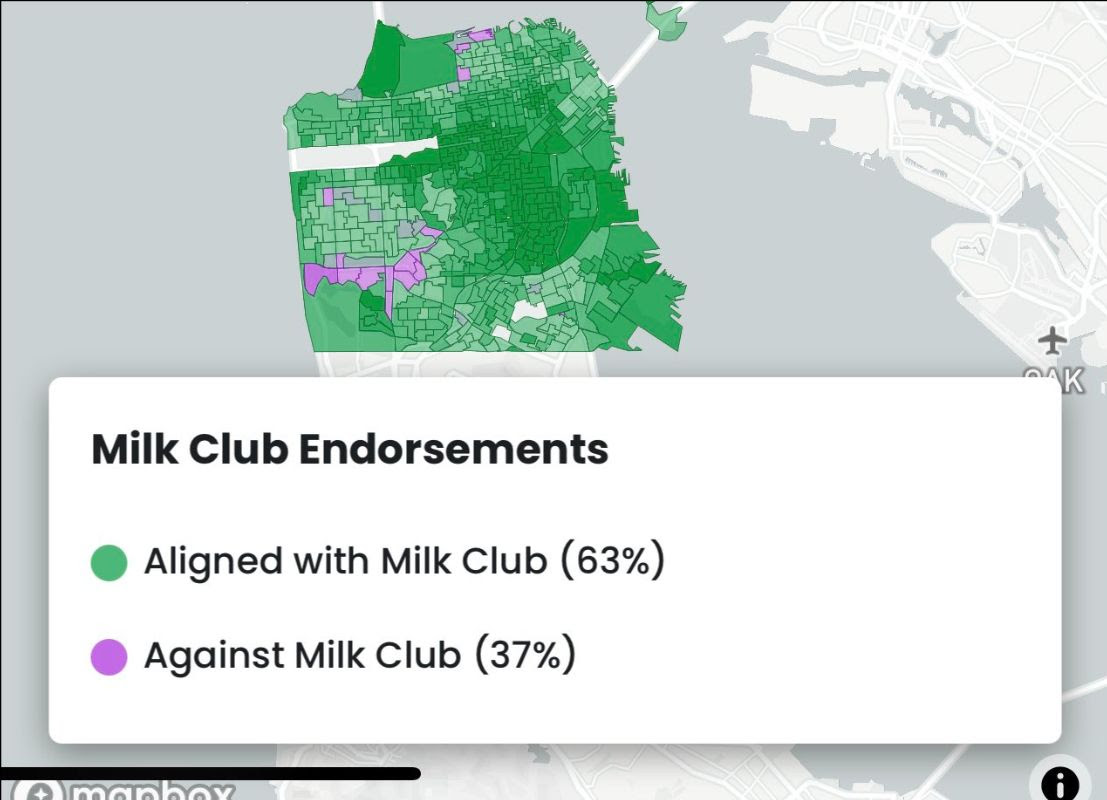 According to Chris Arvin's presentation at Tuesday's General Membership Meeting, a strong majority of SF voters continues to agree with our Club's endorsements.
---
Thank you to everyone who attended Tuesday's November General Membership Meeting, which included a detailed analysis of the November 2020 election results. In particular, our Club would like to thank our guest speakers David Campos, Jane Kim, Joe Eskenazi, Chris Arvin, Hene Kelly, and Frances Hsieh for shedding light on the results and their ramifications, as well as upcoming elections. (More on that later.)
At our November General Meeting, the Membership voting to:
1) Officially oppose Ordinance 201265 which would penalize tenants $1,000 a day if they are accused of smoking tobacco or cannabis in their apartments. (Read more about this

 

here.

)

2) Officially support Ordinance 201185 which would require all new supportive housing that comes online and all current supportive housing to charge tenants no more than 30% of their income towards rent.

3) Hold an endorsement vote for ADEM candidates running in AD 17 and AD 19 at our December General Membership Meeting. (More on this below.)

4) Hold an endorsement vote for Jon Ossoff and Raphael Warnock for the U.S. Senate in Georgia at our December General Membership Meeting.

5) Officially support AB 310 (The California State Public Bank Act) and the Federal Public Banking Act, sponsored by US Representatives Rashida Tlaib and Alexandria Ocasio-Cortez.
If you missed our meeting, you can view it 
here.
---
---
Article VI of the California Democratic Party Bylaws provides that Assembly District Election Meetings (ADEMS) be held in each of the 80 California Assembly Districts in January of each odd-numbered year to elect seven self-identified female Democratic candidates and seven other than self-identified female Democratic candidates to be Assembly District Delegates to represent the Assembly District in which they live.
These elections are open to all California Democrats. Delegates are responsible for planning and attending informational meetings throughout their respective regions and working with other delegates across California on statewide matters.
Therefore, it is critical that all of us in the Milk Club register to vote and vote for progressive Democratic Delegates in Assembly Districts 17 and 19 to ensure that we endorse truly progressive state-level and federal representatives and ballot measures in 2022, worthy of Harvey Milk's legacy. Remember, these delegates could be pivotal if/when there are open seats in Congress or the State Assembly on the horizon.
In order to register to vote in the 2021 ADEM elections, register here. The deadline to register for a vote by mail ballot is January 11, 2021.
In order to apply as a candidate, register here. The deadline to apply is December 15th.
Also, keep in mind that the Membership will vote to endorse a slate of ADEM candidates in AD 17 and AD 19 at our December General Meeting. Stay tuned for more details as we get a clearer picture on who is running.
---
Do you like this post?