---
Join the Harvey Milk LGBTQ Democratic Club for our June General Membership Meeting! It starts at 7pm on Tuesday, February 16th on Zoom.

Register to attend here: https://bit.ly/milkmeeting

Our agenda includes:
- Caravan for the Children Discussion
- SF Transit Panel
- Pride 2021 Upcoming Events

More details will be shared ahead of the meeting.
---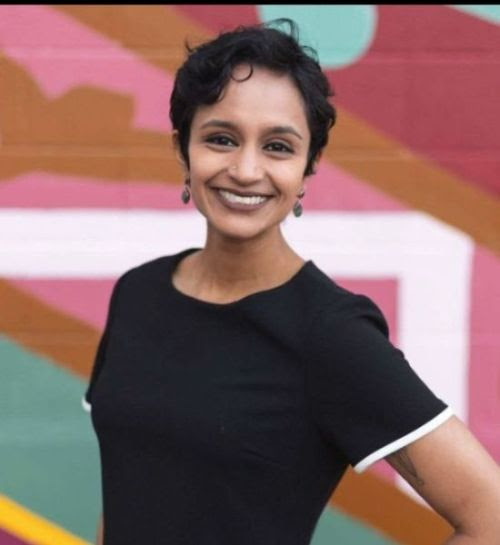 Janani Ramachandran is the Milk Club's endorsed candidate for CA Assembly District 18. The special primary election will be held Tuesday, June 29th.
---
Thank you to everyone who attended our special May General Membership Meeting on Tuesday, May 25th.

Our Membership voted to:

1) Endorse Honey Mahogany for Chair of the San Francisco Democratic Party, who would later win her election to Party Chair unopposed.

2) Endorse Janani Ramachandran for CA Assembly District 18, including Alameda, Oakland, and San Leandro. The special primary election will be held on Tuesday, June 29th. Read more about this race in the Bay Area Reporter.

3) Support and lobby for the budget recommendations of the Transgender Advisory Committee of the SF Office of Transgender Initiatives.
---
Janani Ramachandran is a tenants' rights lawyer and activist who represents the big, bold, progressive change Democratics need in the CA State Assembly. She is also an LGBTQ woman of color running an historic campaign and fighting for justice and seats at the table for those too often taken for granted and left behind.

And if elected, Janani would be the first Queer Asian Pacific Islander woman and first South Asian woman ever elected to the Assembly!

We Queers need bold solutions and leaders with the courage to stand up to corporate power in Sacramento. Janani is fighting for a living wage, a wealth tax, expanded tenant rights protection, a Green New Deal, and Medicare For All.

The Harvey Milk Club will be co-hosting a phone bank for Janani Tuesday through Thursday (June 8th-10th) from 5-7:30pm. So please hop on and join in at whatever time works for you.

If you cannot make it during the week, Janani's campaign will also host a regular weekend canvass from 11am-2pm.

Also, consider donating to Janani Ramachandran's campaign here!
---
---
Thank you to everyone who attended last night's June PAC meeting. If you missed it, you can watch it
here.

The PAC unanimously voted to pass the following motions:

1) A motion to support the GLBT Historical Society's request for a $300,000 add-back in the 2021 annual appropriations ordinance.

2) A motion to support the creation of a Milk Club HIV Caucus.

3) A motion to support the 2021 budgetary priorities of the HIV AIDS Providers Network, Getting to Zero Consortium, and the SF HIV Planning Council in order to provide life-saving services and to protect essential funding for communities impacted by HIV in San Francisco.
---

Celebrate PRIDE with the Harvey Milk LGBTQ Democratic Club at The Cinch Saloon!
Now that California is lifting virtually all COVID-19 restrictions for small businesses, we are excited to have our first in-person Happy Hour since the start of the pandemic. Join us on Monday, June 21st from 6-8pm at The Cinch Saloon at 1723 Polk Street.
The Facebook event page is 
here
.
Do you like this post?